https://player.vimeo.com/video/269318225
Bring your ideas to work.

Life at one of Canada's Most Admired Corporate Cultures™
We've worked hard to build one of Canada's Most Admired Corporate Cultures™, and we love the people we're building it with. We're a diverse, energetic and open team that doesn't worry too much about titles. We like our team to feel at home, so you're free to dress up or dress down – whatever makes you comfortable.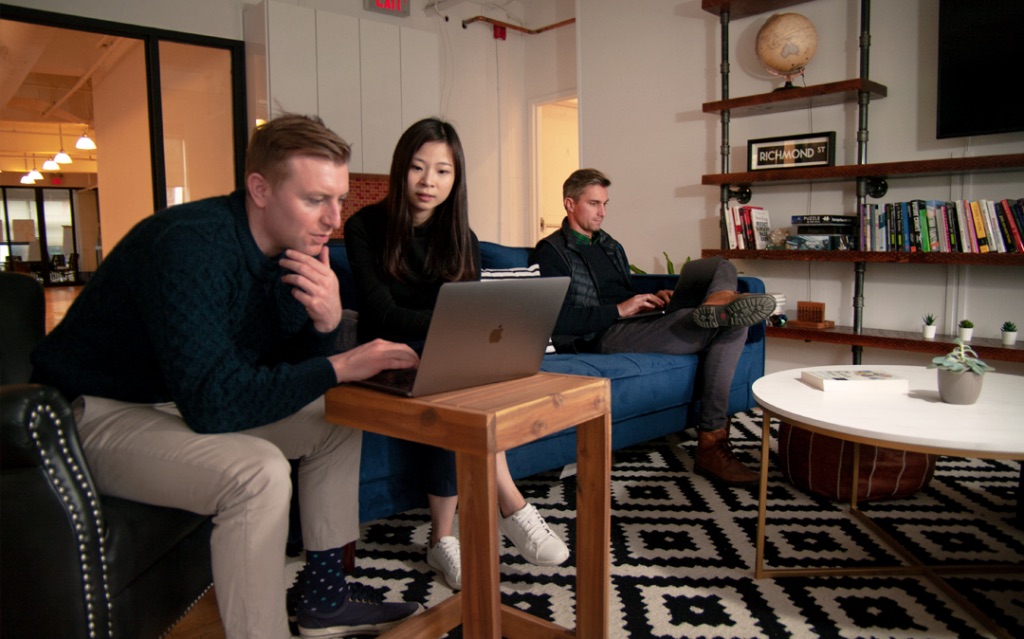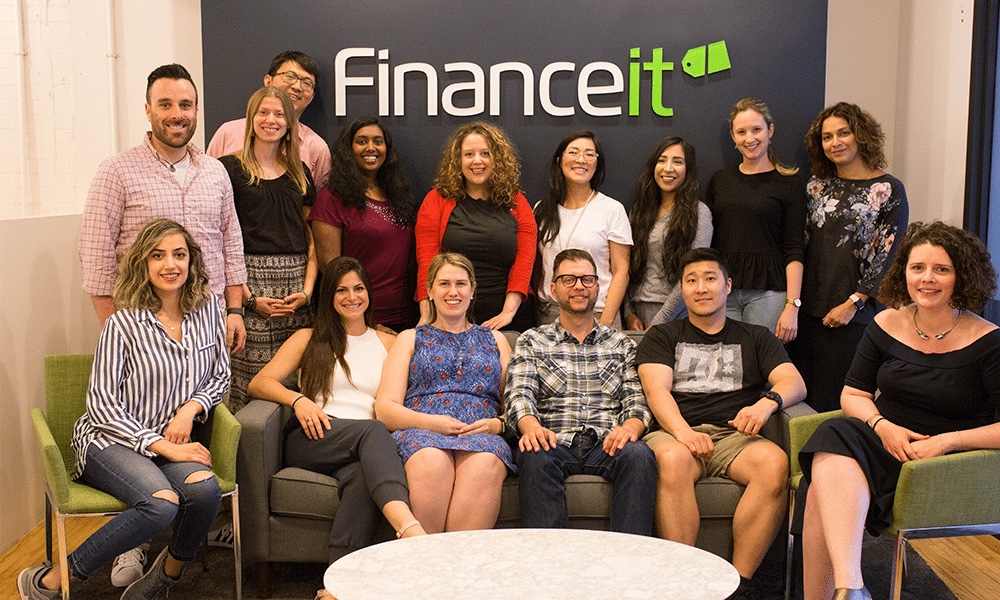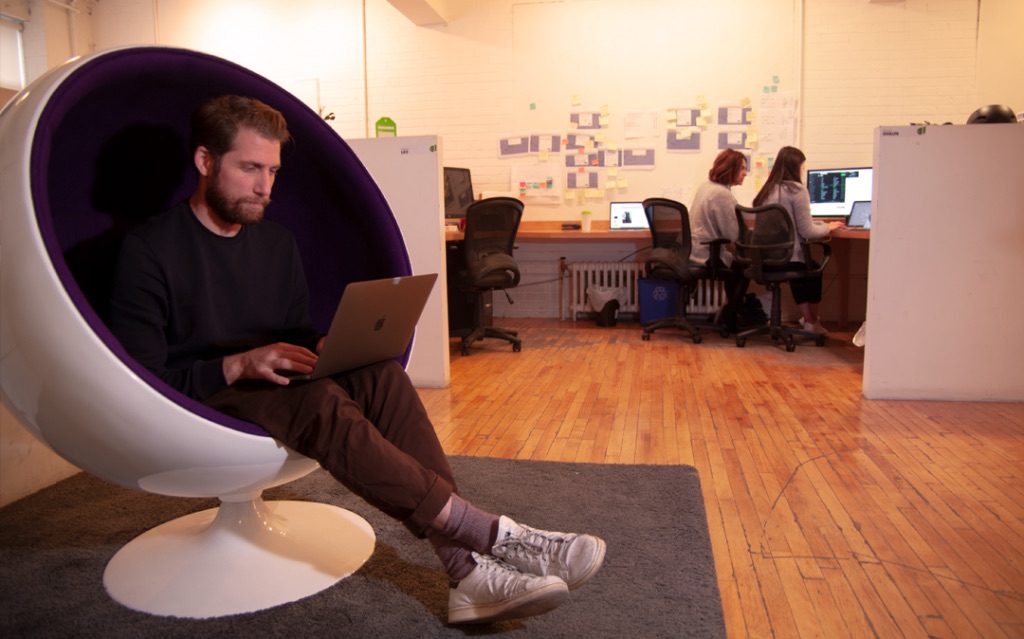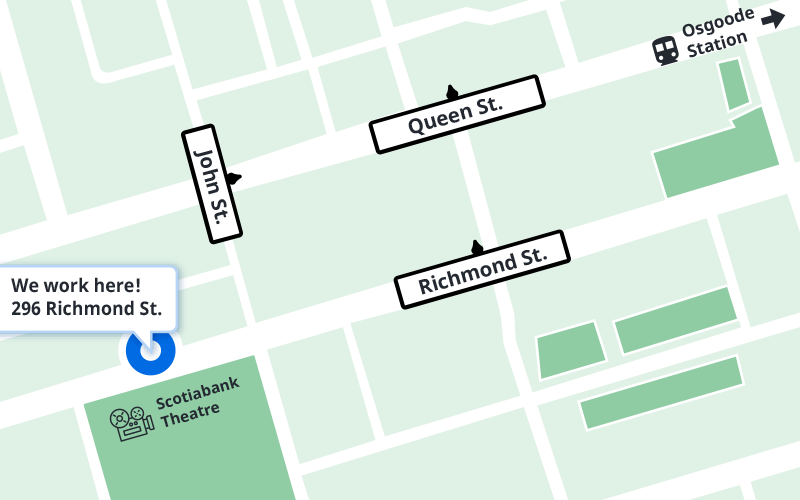 Our headquarters, located in Toronto's Entertainment District, is easily accessible, with TTC subway and streetcar stops just around the corner. Union Station is a stone's throw away and a bike path arrives right at our doorstep.
Technical Product Owner, Enterprise Solutions
About the role:
We are looking for individuals to lead cross-functional agile teams in building the next iteration of our market leading Enterprise Solutions platform through leading the solution design, execution, and roll-out of features that support the needs of some of North America's largest enterprise businesses. You will help your team ship the right products for our customers. You're a detail oriented and analytical team player with a positive attitude and the experience to lead product development teams through all stages of the product lifecycle. You are also comfortable multi-tasking in a fast-paced and high-pressure startup environment, and hold yourself accountable for results. This position will report directly to the Director, Product Management and work closely with everyone on the Financeit team.
What you'll do:
Work closely with Product Management and Account Management to create and groom a product backlog prioritized according to the maximum value that advances strategic product growth or operational efficiency targets.
Provide backlog prioritization, sprint planning, and elaboration of the upcoming sprint priorities to ensure team work is focused on delivering maximum value at any given time.
Liaise with internal stakeholders for optimum solutions to delivering customer value, including UX, Finance, Legal, and Compliance to deliver product in a regulated industry.
Lead 1-2 product development teams, consisting of UX Designers, Content Writers, Developers and Quality Assurance groups in an agile product development cycle to facilitate timely iterative delivery.
Collaborate with Engineering Leads in guiding the team through the process of figuring out "how" a feature/story will be developed, including the breaking down of stories/requirements into technical tasks and effort estimation.
Facilitate daily stand-ups, sprint planning, retrospective and sprint demos.
Maintain relevant metrics that help the team see how they are doing.
Monitor, track and provide outward communication for improved transparency on the team's progress against their delivery goals for key product/feature releases.
Collaborate with our Agile Coaches in guiding the team through the process of getting the best out of Agile collaboration and organization tools (Jira) and rituals (stand ups, retrospectives, etc) and in shielding the team from outside distractions.
Requirements:
Minimum of 5 years of experience in product management, business analysis, or software development management.
Minimum of 2 years leading dev teams in an Agile environment through continuous delivery of product roadmaps.
Knowledge and/or experience of Kanban, Scrum Methodologies, Extreme Programming and other team level Agile frameworks along with their strengths and shortcomings.
Direct experience building out complex web/SaaS platforms for the banking / lending/ FinTech industry a big plus.
Direct experience leading projects that involved the integration of multiple platforms via API communications.
A knack for understanding customer needs and translating them into amazing products.
Analytical and meticulous - can easily find the edge cases when developing business requirements.
Exceptional written and in-person presentation skills.
Ability to multi-task and meet deadlines under pressure.
Attention to detail and the tenacity to make sure quality standards are high.
Ability to work with other disciplines to help make barriers disappear.
Benefits:
Winner of Canada's Most Admired Corporate Culture in 2018, we offer more than just the basics. Take advantage of:
An award-winning culture with regular social events + team lunches
Competitive pay
Comprehensive medical, dental and vision coverage + fitness reimbursement
Onsite massage, yoga and fitness classes
Career learning and development programs
RSP Contribution matching
Maternity leave top up program
Casual dress code
Flexible work hours
Next Steps:
If what you just read excites you, we'd like to hear from you! Please submit your application and we'll contact you if you become selected for a phone interview.
Financeit is an equal opportunity employer. Accommodations are available on request for candidates taking part in all aspects of the selection process.
Not what you are looking for?
Financeit is committed to providing a barrier-free environment for our current and future employees. Applicants needing accommodation in the recruitment and interview process are invited to contact us directly and confidentially about their accommodation needs. Learn more about Accessibility at Financeit here.