As part of the CoderDojo Foundation's Toronto chapter, some of the more tech-savvy members of the Financeit team have recently dedicated their Sunday to teaching students the basics of coding. CoderDojo is a global collaboration of professionals who provide free lessons in programming and design to youth. With CoderDojos in just about every major city across the globe (including Dublin, London, Tokyo, San Francisco, and New York), the organization seeks to eliminate gender and socioeconomic barriers to computer science.
This past Sunday marked the first-ever CoderDojo event in Toronto, which could not have happened without the organizational efforts of Meaghan Bent.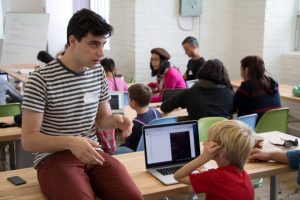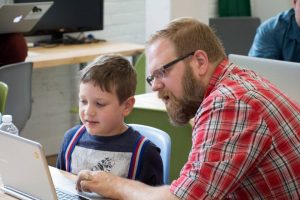 Welcoming attendees from 10 – 17 years old, the budding coders spent the afternoon in an introductory crash course of the Ruby programming language. Led by Adnan, the day challenged students to create simple text-based programs; and the results were fantastic! Students even got creative, creating programs that strayed from the lesson plan. The programs ranged from asking the user what kind of pizza they prefer to taunting their siblings over their choice of clothing.
We're proud of everyone who organized and took part, and we're looking forward to more of the Financeit team joining next time.
If you'd like to attend the next CoderDojo Toronto event – either as a mentor or to learn the basics of programming with your child – you can follow the latest news and dojo announcements on Facebook or Twitter. Attendance is absolutely free, and they're a very friendly, welcoming bunch so don't be shy and sign up today.