Rental programs seem like an enticing offering in terms of having a manageable monthly payment and being inclusive of full service plans. However, the fine print usually tells a different story that may lead to a negative customer experience. 
How would you feel if you had to pay a $32,000 bill in order to break your furnace and air conditioner rental contract? Well that's exactly what happened to a single mother in Ontario, who was outraged by the price tag. Financeit works differently. We provide financing solutions, not rentals. Read below to find out how Financeit's program could be a better option for borrowers in comparison to rental offerings.
High TCO (total cost of ownership)
Rental programs entice users to keep a service plan for a long period of time such as a 15 year term. This is usually done in situations where there is a high project size such as an HVAC system. It may seem like a good idea in the short term, but in the long term the total cost of service/ownership may be often 2-3 times more than the original cost of the equipment.
Raising rates
As mentioned previously, rental offerings usually deal in longer term periods such as 10-15 years. Monthly payments may increase annually as interest and inflation increases over the years. Rental programs could also have rising annual rates (up to 3.5% annually), increasing your monthly payment substantially.
Unclear terms
Contract terms are usually at the heart of many of the issues pertaining to rental offerings. If there is a lack of understanding of the terms and conditions of the rental contract, it may cost you significantly more than you expected. For example, a rental contract may include a buyout option that could require a large payout in order to own the unit (i.e. a 10 yr old rental still requires you to purchase 61% of the original equipment price). This can be seen in the table below which demonstrates the payout for a widely-available HVAC rental contract in Canada.
| Age of HVAC system | Typical buy-out rate (% of total installed cost) |
| --- | --- |
| O to less than 1 year old | 100% |
| 1 to less than 2 years old | 98% |
| 2 to less than 3 years old | 96% |
| 3 to less than 4 years old | 92% |
| 4 to less than 5 years old | 89% |
| 5 to less than 6 years old | 86% |
| 6 to less than 7 years old | 83% |
| 7 to less than 8 years old | 79% |
| 8 to less than 9 years old | 74% |
| 9 to less than 10 years old | 68% |
| 10 to less than 11 years old | 61% |
| 11 to less than 12 years old | 53% |
| 12 to less than 13 years old | 43% |
| 13 to less than 14 years old | 31% |
| 14 to less than 15 years old | 15% |
| +15 years old | 5% |
Benefits of financing through Financeit
Ownership
One of the core benefits financing has over renting is ownership. Let's use the example of an HVAC unit again.  Most HVAC equipment comes with a manufacturer's warranty out of the box, where a service plan will have minimal benefit (i.e. Mitsubishi has a 10 year parts and labour warranty). An additional benefit of ownership is the availability of certain government rebates, where rental programs would be ineligible. 
Clear terms and no hidden fees
Financeit prides itself on being a transparent lender. You are absolutely not penalized for paying off your loan (and by extension, your unit) early.  In fact, according to a recent borrower survey, 91% of Financeit borrowers tell us they felt they were given all the information needed to make an informed decision around financing. This includes clear disclosures with an easy to read contract, online account and payment management, and a call centre that is available to answer any questions customers may have.
Lower TCO (total cost of ownership)
Let's take a look at a couple of hypothetical examples below to demonstrate how financing an HVAC unit through Financeit will result in a lower TCO in comparison to rentals.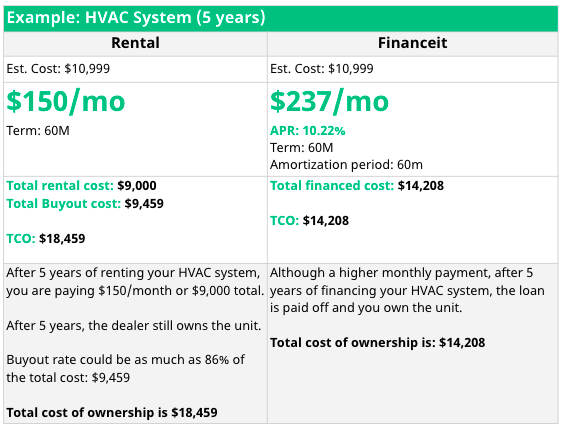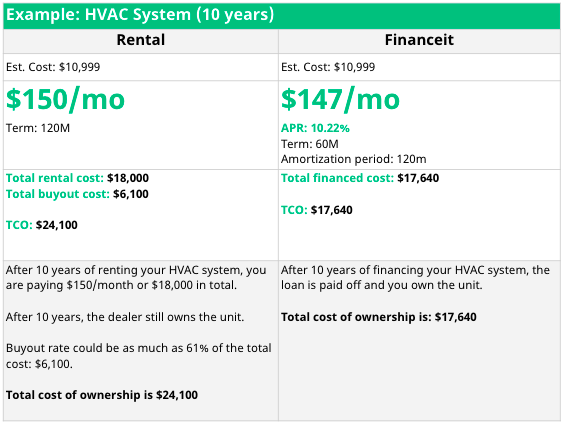 In both hypothetical scenarios, you would save thousands of dollars by choosing the Financing option instead of the rental program. You also have the flexibility to pay off the unit whenever you like.
Looking for more information on Financeit? Visit our consumer page "here". Or to begin using our platform talk to your local contractor and ask if they offer financing through Financeit.
Boost your sales by offering your customers financing.