As Canada's economy slowly reopens, and businesses begin to follow suit, we have come to realize that simply reopening isn't enough. COVID-19 has impacted us all to our cores. From our personal lives to our businesses, we are learning how to pivot and act in this new normal.
We're elated to share that to help navigate this change and add value to our loyal network, we developed a virtual panel discussion to dive into the impact technology is having on the home improvement industry. Hosted by our very own CEO and Founder, Michael Garrity, this panel discussion features a range of industry leaders including:
     –  Jason Neal, Executive Director, SAWDAC
     –  Craig Lundman, Vice President of Sales, Beachcomber Hot Tubs
     –  Matthew Bratsis, General Manager, EGIA
The discussion explores the impact technology has had on the home improvement industry throughout COVID-19 and beyond.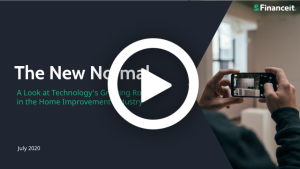 Get started with Financeit:
For informational use only.
The information and opinions contained in this video panel discussion are those of the participants and do not reflect the views of FinanceIt Canada Inc. The content is not intended to constitute commercial, legal or other professional advice, and should not be relied on or treated as a substitute for specific advice relevant to particular circumstances. Financeit makes no warranties, representations or undertakings about any of the content of this panel discussion (including, without limitation, any as to the quality, accuracy, completeness or fitness for any particular purpose of such content).