On March 16-18, Financeit hosted a vibrant, interactive booth at the Canadian Mechanical and Plumbing Exposition (CMPX) at the Metro Toronto Convention Centre. Many of our partners are home improvement professionals in the plumbing and HVAC space, so we knew we had to go where our customers were and put on a good show.
Decked out in our bright green shirts, we were hard to miss as we talked to attendees about who we are and what we do. We showed our visitors our new mobile app and guided them through the application process on the spot, demonstrating how Financeit partners can use our app to get their customers approved for financing right away.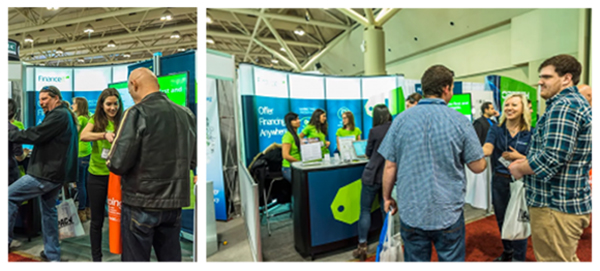 Now that CMPX has drawn to a close, we're busy getting our new partners on board and connecting with the many people who came to see our booth. If you didn't make it to the show and want to learn more, we'd love to hear from you.
Close more sales and get paid faster with financing. Sign up for Financeit for free or call us to learn more: 1-888-536-3025.