Today at Finovate we introduced the latest addition to the Financeit platform: Financeit Checkout.
Financeit Checkout is an embedded app which goes right into a merchant's website, providing the customer with a new payment alternative for big-ticket purchases. This payment portal allows a customer to be pre-approved for a loan during their online checkout process.
In the screenshot below, you can see an example of a checkout cart from one of our merchant partners, EQ3. In this example, the customer is looking to buy 2 Eames lounge chairs and is presented with the option to buy them on financing using a "6 months, no payments, no interest" marketing program being offered by the retailer.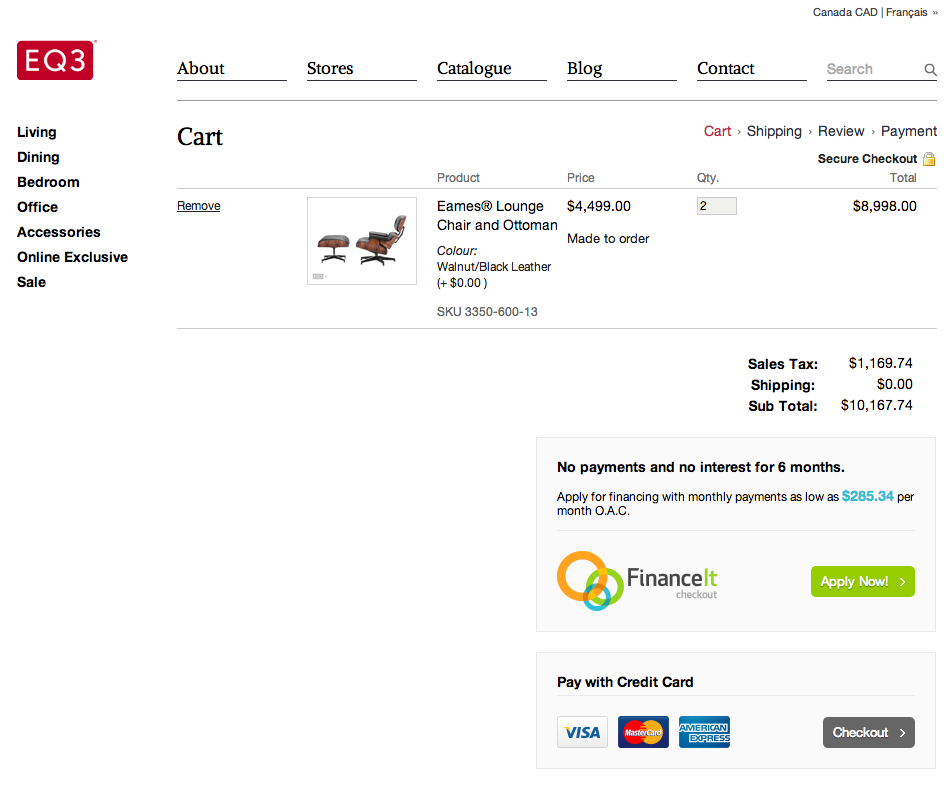 Next, the online customer fills out an application form for pre-approved financing.
The Financeit system does an instant ID Verification and checks credit and debt service capacity to see if the customer qualifies for this loan. After being approved for their purchase, the payment plan details, closest EQ3 location, and next steps to completing the purchase are displayed.
Once the customer has come in store and presented the loan application number they received from Financeit Checkout, the merchant can then use the iOS app to access and fund the loan in minutes.
With the ability to modify loan parameters Checkout makes it easy for the merchant to up-sell the customer; for example, if the customer qualifies for a $15 000 loan but the purchase is only $10,167, the merchant may be able to add-on any additional purchases that he/she may want or need. 
When required, collecting additional customer data is made simple through the use of our iOS app.And that's it! Whether you're a retail, vehicle, health or home improvement business, Financeit Checkout is an easy way to finance online sales. Financeit Checkout will be available to all partners later this year, so stay tuned for updates.
Close more sales and get paid faster with financing. Sign up for Financeit for free or call us to learn more: 1-888-536-3025.